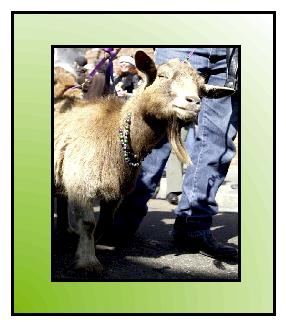 Although our primary bookings are
Birthday Parties
we do other events as well.
Family Reunions, Neighborhood Fairs & Promotional events such as
Grand Openings, and Office Picnics are also viable venues. Basically
anywhere you have people gathering and want to add little Extra Magic,
we're available.
We have a number of different packages which can be expanded on and customized to meet your needs. Please check out our
"Basic Packages Page"
PLEASE note that our Party Packages are geared for groups of 25. If you have a larger group please
discuss this with us prior to booking.

~~~~~~~~~~~~~~~~~~~~~~~~~~~~~~~~~~~~~~~~~~~~~~~~~~~~~~~~~~~~
PLEASE call from the number where you can be reached at anytime.
Numbers left on voice mail are sometimes difficult to understand. If you have called from a business number, left a voicemail and have not
received a reply, please drop us an email
Due to recent events, we no longer service the New Orleans East area
.~~~~~~~~~~~~~~~~~~~~~~~~~~~~~~~~~~~~~~~~~~~~~~~~~~~~~~~~~
Out of area events will be considered
We do not travel in excess of 45 minutes from our base location
and we do not service out of state.
Our pricing is based on parties of 25 or less.

Larger events will require additional fees depending
on how many attendees are expected.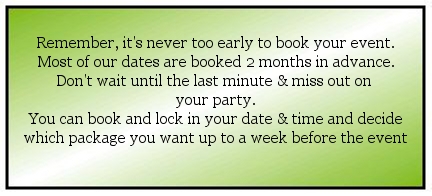 All bookings will require a non-refundable $50 booking fee which must accompany the Online Booking Form
No Bookings will be processed until the Booking Fee is paid.
~~~~~~~~~~~~~~~~~~~~~~~~~~~~~~~~~~
OUT OF TOWN PARTIES
We no longer service the Baton Rouge area
Since we are located in New Orleans, Baton Rouge is at least an hour to an hour a half in travel time, depending on exactly where in the area you are located.
Schedule wise, a one hour party in Baton Rouge takes the same amount of time that three local parties do. We've tried to offset that with significant travel fees, however that doesn't solve all of the issues. Twice in 3 months we missed parties due to circumstances beyond our control. Party one we were delayed due to a traffic accident on the interstate. Party two we encountered mechanical issues. By the time we got past the traffic delaying us from party#1, and turned around and swapped vehicles for party#2, with the hour travel time ahead of us we couldn't get there in time.
In both instances we offered to arrive late and would have waived the fee, but unfortunately, the kids would have been leaving by then.
We understand that in most cases we ARE the entertainment. If we are severely delayed it puts the hostess in a bad spot and disappoints the children. While we hate to inconvenience the hostess, disappointing the children is far worse and we just can't take that chance again.
We have done over 700 parties and only missed two, however that's more than we are willing to chance. We will honor any parties now booked, but we will not book anymore that far out of our service area. Thank you for your understanding