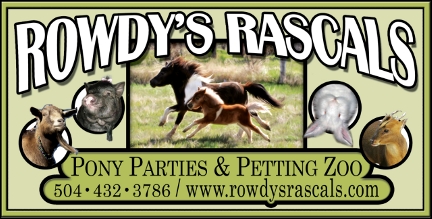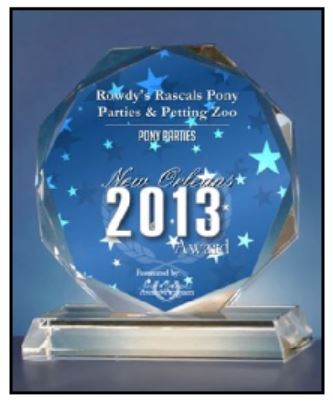 NEW ORLEANS September 24, 2013 -- Rowdy's Rascals Pony Parties & Petting Zoo has been selected for the 2013 New Orleans Award by the New Orleans Award Program.
Each year, the New Orleans Award Program identifies companies that we believe have achieved exceptional marketing success in their local community and business category. These are local companies that enhance the positive image of small business through service to their customers and our community. These exceptional companies help make the New Orleans area
a great place to live, work and play.
Various sources of information were gathered and analyzed to choose the winners in each category. The 2013 New Orleans Award Program focuses on quality, not quantity. Winners are determined based on the information gathered both internally by the
New Orleans Award Program and data provided by third parties.

Pony Ride Parties & Petting Zoos!
Rowdy's Rascals operates in the Greater New Orleans area. We will pleased to provide our clean, calm & beautiful little animals to entertain at any of your events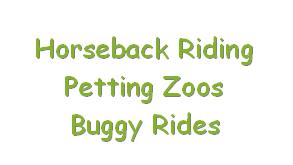 Call or email for details!
~~~~~~~~~~~~~~~~~~~~~~~~~~~~~~
Miniature Horses have calm personalities & actually enjoy interacting with and pleasing humans. They are extremely docile & are as a rule much smaller than ponies, usually by two feet.
We further capitalize on their calm natures with the way we raise and keep them. All of our animals are family, not livestock. With very few exceptions our little guys and girls have been hand raised from birth. We raise these little guys & girls as house pets. They live in our back yard, watch TV in the den with us and beg for scraps from the dinner table. They go for a walk in the French Quarter every afternoon and pose for photos with the tourists. They have been handled and socialized all of their lives and they thrive on attention
When you call another company for your event, they will walk out to the pasture or barn, capture the pony & load it into the trailer. Ours will probably walk right out of the house.
So instead of leaving for your event annoyed at being pulled from the pasture, our guys walk out of the house eager for an adventure!

Copyright by RowdysRascals.com